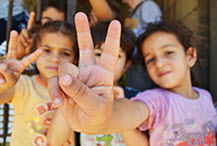 In more modern times, many non-violent peace activists have shined the way for us.  We all know and honor the contributions of such peaceful revolutionaries as Mahatma Gandhi, Dr. Martin Luther King, Nelson Mandela and Mother Teresa.  Lesser known, but equally potent, is the courageous multi decade struggle of Myanmar's Daw Aung San Suu Kyi. Learn about her life and mission on behalf of her people in this BBC article. Likewise the potent work of Barbara Deming, who integrated gay and lesbian rights activism with other aspects of the struggle for human rights, comes to mind. In Israel/Palestine the tireless commitment Israeli peace activist Nurit Peled Elhanan stands side by side with Dr. Hanan Ashrawi's work for justice for her fellow Palestinians.
In a culture where advocating feminism still risks death, the commitment of Meena Keshwar Kamal was astounding!  To learn about Meena's contributions and the struggles of Afghan women, link first to www.rawa.org/kab-jan05/seminar05.htm. Then link to the home page of RAWA "The Revolutionary Association of Afghan Women" to learn more about RAWA's martyred founder and her legacy of nonviolent activism.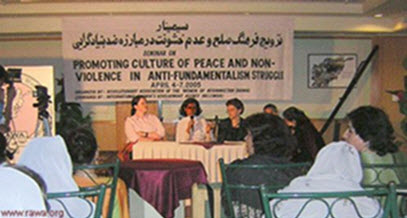 Each of these heroes and heroines – and many, many others – have confirmed that assertive non-violence and compassion must be our ultimate response to oppression if we seek to build a world society of lasting peace and justice. But please don't confuse nonviolence and kindheartedness with weakness. Here at home in the USA, confronting entrenched political forces requires skill, courage and lasting determination to bring to justice those who flaunt their disdain for our Constitution and the rule of law.  In fact, another simple way to sum up the Imagine Peace and Plenty perspective on how to relate to many of the folks who currently hold power in America is "Bless them. Forgive them. And put them in jail!"

No higher role model could be found, for living into this perspective, than Liberian activist and Nobel Peace Laureate Leymah Gbowee.  Here is a brief video in which she challenges us to embrace forgiveness and reconciliation as central elements of peace building.
Leymah Gbowee on Forgiveness and Reconciliation (7:11)

Not everyone though shares Leymah's perspective.   Until an individual, or a nation, asks the question "Where is the love?" there can be no lasting peace. To explore how America lost sight of the centrality of that question link here.